Find Affordable and High-Performance T Type Strainers for Your Production Line in India
We are the reputed manufacturer, exporter and supplier of quality T Type Strainer, which is an efficient basket filter offering high capacity filtration. This strainer can be easily installed and required low maintenance. It has a compact size and is designed using premium quality steel sourced from known vendors. In addition to this, T Type Strainer has a fine finish and is rust-resistant. Our quality controllers conduct various tests such as Dimensional inspection, Pressure drop versus flow rate test, NDT tests -DP Test, and many more.
Our provided ranges of T Type Strainer is exclusively finished and based on current market demands. They are long-lasting for the long term and the user will be pleased after using our product range. Our product is manufactured using premium grade of raw material and according to the customer's requirement. We have emerged as one of the topmost manufacturer, exporter and supplier in the industry for our T Type Strainer. To maintain the quality standards, we use ultra-modern techniques in compliance with set industrial norms. We are T Type strainer manufacturers in Ahmedabad, India. Our esteemed clients can avail a T Type Strainers designed as per the defined industry standards offered at market leading prices from us. As per the specifications mentioned by the customers, these strainers can be customized.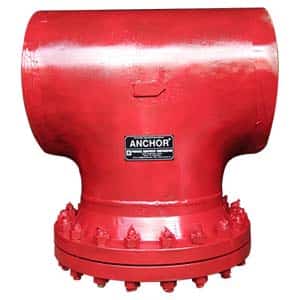 T Type strainers are the most cost-effective custom fabricated compound strainers designed to remove foreign particles from pipeline. Filter elements used in these industrial strainers are made of stainless steel perforated sheet or wire mesh supported by the perforated sheet. To ensure that the system is running at the required cleanliness level when met with full load T Type Strainer is most commonly supplied with a range of graded filtration levels. They can be mounted into horizontal or vertical piping and can be configured for right-angled applications. These strainers are commonly used in pipelines to prevent damage to control valves, Gauges, Flow meters, pumps, and other process equipment.