We are leading as a Manufacturer, supplier of Conical Strainer including  Cone Strainers.
We are offering a wide range of Conical Type Strainers which are produced using good quality raw materials sourced from the renowned vendors of the industry. Offered range is available in varied sizes as per the need and demands of our precious clients. To meet the client's specific requirements, we manufacture these Conical Type strainers under the observation of our dedicated professionals with the help of advanced techniques.
Conical Type Strainers take their name from their configuration. They are installed in the housing and designed to remove unwanted solid particles liquid or gas from the pipeline. These Strainers are generally used on the suction side and because of that named suction strainers. Compact size, low-pressure drop, tough design, and easy maintenance are some special features of this conical-type strainer.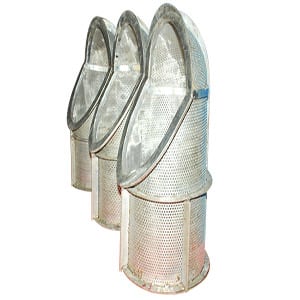 Conical / Temporary Strainers are designed for temporary or short periods of operation, for example, during commissioning and initial start-up periods of new or reconditioned process lines to remove any course debris such as rags, welding rods, pipe scale, rust, etc, accidentally or unavoidably present within a system. After a nominal period of operation, they are usually replaced with a permanent strainer of finer retention.
Made from perforates sheets and mesh lining
Effective in initial stages and maintenance
150% Area and 200% area designs are two options
Key Tags : Conical type strainer, Conical type strainer Manufacturer