Invest in Reliable and Durable Fabricated Strainer, Basket Strainers etc for Your Filtration Needs 
Being a member of the simplex basket strainer, fabricated strainers have a basket-shaped design with a huge capacity for storing debris. Made up of stainless steel or carbon steel, this type of fabricated strainer has a slant top basket design. The design helps the flow of fluid technically because the slant top maintains low-pressure drops. When it comes to the weight, fabricated strainer weighs lesser than other basket strainers. Due to low weight, labors find it easier to remove the slant top for cleaning purposes. We are the specialist fabricated strainer manufacturers in Ahmedabad, India. We offered precision-designed Strainers to our esteemed clients to meet the specific requirements of removing foreign particles in flowing applications or services. Excellent finish, good pricing, and timely delivery are big attraction factors for our regular and new clients.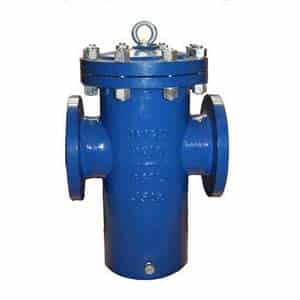 A major turn-on of this fabricated strainer is the optional presence of a back flush or backwash option. It works systematically without shutting down the system when there are heavy solid particles in the pipeline. An on/off back-flush valve is installed in the strainer's bottom area and this opens when a huge amount of debris accumulates at the bottom. Apart from back-flush, we also offer various other modifications on fabricated strainers to provide the most suitable product to our clients.
Fabricated strainers function like normal strainers but are customized to suit specific settings and requirements. A strainer traps unwanted solid materials like rust, and sediments to separate from flowing fluids. It can perform this main function through the use of perforated metal, mesh, or wedge wire. A fabricated strainer protects piping system equipment like pumps, turbines, valves, meters, nozzles, and sprinkler heads. Fabricated strainers are created to address some straining application issues like space limitations, special piping connections, specific opening systems, and cast metal modifications. These days, leading manufacturers offer clients various fabrication options. They can resize the bodies of the strainers to meet the needed flow process, offer easy maintenance by creating special covers, or make larger casting to save costs. A fabricated strainer can retain and remove solid particles of various sizes.
Key Tags : Fabricated Strainer, Fabricated Strainer Manufacturer