We are Prominent  Bucket Type Strainer  Manufacturer, Supplier & Exporter in Gujarat, India
The strainers are so called because the Filter element inside the strainer is in the shape of a Bucket. "Process Equipment Corporation" Bucket type Strainers are Designed and manufactured to give minimum pressure Drop across the line. The unique design of the bucket type strainer element will filter 100% of the flowing media even if the filtering element is 50% Clogged. As the filtering element is designed 4 times the size of the Lined area, it doesn't require frequent cleaning, thus reducing the downtime. We are prominent name in the industry as Bucket Type Strainer Manufacturer, Supplier and Exporter in Ahmedabad, Gujarat, India.
Bucket Type Strainers are typically used in applications where the number of solids to be removed is small, and where frequent clean-out is not required. They are most often installed in gaseous services such as steam, air, nitrogen, natural gas, etc. The compact, cylindrical shape of the strainer is very strong and can readily accommodate the high pressures that are common in this type of service.  A bucket Strainer is a closed vessel with a cleanable or removable screen or element for removing particles from liquids Drain connection provided to remove accumulated particles or solids.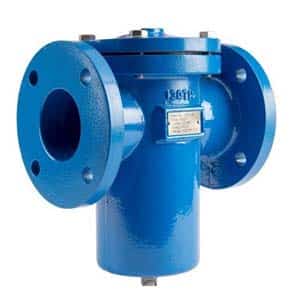 A bucket strainer has the advantage of being able to be installed in either a horizontal or vertical position. However, in both cases, the screening element or "leg" must be on the "downside" of the strainer body so the entrapped solids can be properly collected and held for disposal. Strainers are furnished with high-quality stainless steel screens that are carefully fabricated to fit the strainer body perfectly. This, coupled with the precision-machined screen seat on the body of the strainer, protects against any bypass.
Key Tags: Bucket Type Strainer, Bucket Type Strainer Manufacturers