We are well-known for Bag Type Strainer manufacturers, Suppliers, and exporter in Gujarat, India.
The bag type of strainer is used extensively in the chemical process industries. They accommodate a wide range of flow rates and are available in nearly any material of construction to withstand chemical attacks, high/low temperatures, and extreme pressures. We are the specialist Bag Type strainer manufacturers in Ahmedabad, India. We offer precision-designed Strainers to our esteemed clients to meet the specific requirements of removing foreign particles in flowing applications or services. Excellent finish, good pricing, and timely delivery are big attraction factors for our regular and new clients.
The bag-type strainer is designed for optimum filtration performance. Its range provides filtration solutions for a broad variety of fluid applications in the process industry. They are particularly useful for filtering large volumes of high-viscosity liquids. The bag-type strainer is constructed of filter housing, filter bags, an internal cage to support bags, a positive sealing arrangement, and a choice of end connections. The internal support ensures bags will not burst as high differential pressures build up during operation.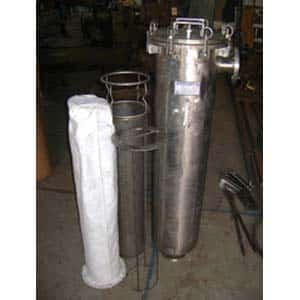 Key tags : Bag Type strainer, Bag Type strainer Manufacturer